Primus Premium Quality Wafer Paper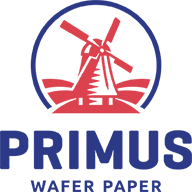 Statewide Food Distributors
Australian Distributor for PRIMUS Wafer Paper
Our premium wafer paper is manufactured by one of the most recognised brands in the world - PRIMUS - the leader in wafer paper since 1916.
Wafer paper is manufactured from only potato starch, water and olive oil can be used in many ways.. It can be used for edible printing, confectionary, wrapping nougat and fudge, edible packaging, even edible branding on bread and many other products.
Primus wafer paper is made from Dutch potatoes. Primus consider this starch to be the best source for wafer paper and have relied on the consistent quality of the Dutch potato for over 100 years.
It is 100% natural, vegetarian, bio-degradable and a very versatile product.
Contact us for pricing and availability for bulk rolls and any other Primus products.